Review: Merry Christmas Baby by: Jill Shalvis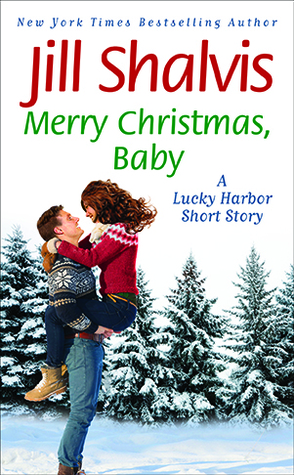 Title: Merry Christmas Baby
Author: Jill Shalvis
Publisher: Grand Central Publishing
Series: Lucky Harbor # 12.5
Pages: 64
Format: e-book
Source: NetGalley
Description:
New York Times bestselling author Jill Shalvis brings you a heartwarming tale that could only happen in Lucky Harbor . . .

SEASON'S KISSES

Wild child Chloe Thompson can't believe how much things have changed. She still can't get enough of her sexy husband Sawyer, but he seems to prefer working to thinking about impending fatherhood. So tonight, a very pregnant Chloe is escaping her troubles at the town Christmas party.

Sheriff Sawyer Thompson hopes surprising Chloe at the party will give him a chance to set things right. But as the snow begins to fall and the wind rages, he wonders whether he can make it back in time. While mother nature conspires to keep Sawyer and Chloe apart, an unexpected arrival will require them to kiss and make up . . . and ring in the happiest holiday Lucky Harbor has ever seen.
My Thoughts:

Oh Mrs. Shalvis you've done it again created such a great story bring back the core characters that started Lucky Harbor with Maddie, Chloe and Tara. I've missed not hearing about them as much but was so excited when I heard they were coming back I leapt at the chance to read it.
This one follows Chloe who has been married to Sawyer for five years and they are expecting their first child, and Chloe has been pushing Sawyer away and it's only while he's gone doing work that she realizes how much she loves him and her life is complete when he is with her.
In a winter storm Chloe begs a friend of theirs to take Chloe to a party and realizes she is going into labor with the baby and admit the contractions finds her partner in life has shown up and is there to help with the birth of their daughter.
I loved visiting with the girls, Jax and Sawyer and Ford it was great to see how they are all so well connected. Such a great Christmas story! All I can say to this is Merry Christmas Mrs. Shalvis you've earned it and then some!